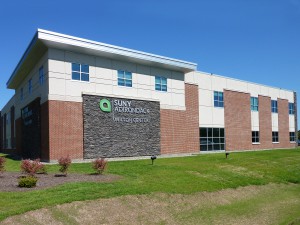 SUNY Adirondack: Wilton Center
Wilton, New York
Constructed on SUNY Adirondack's Wilton Campus, this two-story steel framed building offers room to grow on an expanding campus. The building provides classroom space, a state of the art laboratory, and 75-seat lecture hall with stadium style seating. An exterior facade featuring natural stone, brick, and glass accents provides continuity with the surrounding neighborhood's appearance.
Scott Burlingame's Role
Complete structural engineering design for the facility including:
Design and drafting for the two-story, structural steel frame
Steel moment frame lateral force resisting system to maximize the flexibility of the space
Challenges
Working with the design build contractor, different steel framing systems were evaluated to maximize efficiency, minimize costs, and provide a strong and durable structure.
Project was completed while Scott was an Associate with Siracuse Engineers, PC
Architect
JMZ Architects and Planners, P.C.
Project Value: $6,000,000
Project Size: 32,500 sf
Completion: Spring 2013